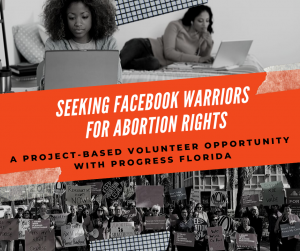 Progress Florida is looking for avid Facebook users to volunteer on an exciting new campaign. In late October, Progress Florida will be launching a campaign on Facebook (running through mid-November) that features compelling mini-videos to build awareness on expanding abortion access.
A volunteer corps of advocates for abortion rights is being recruited to help manage responses in the comment sections of these Facebook ad campaigns –sure to be targeted by anti-abortion trolls and anti-choice advocates. The Facebook warrior crew will drown out the lies and the hate with truth, reason, and good cheer.
This will be an exciting opportunity for volunteers to learn more about reproductive rights and be powerful advocates!
A training webinar and a detailed messaging and volunteer guide will orient volunteers to the project, supplying helpful tools (such as talking points).
More information and sign up is here.