Did you hear? We're getting abortion on the ballot in 2024.
We know that Floridians overwhelmingly agree: abortion is a personal medical decision that should be free from government interference.
That's why Floridians Protecting Freedom has launched a campaign to let voters decide. Our coalition is proud to support and amplify this campaign with the goal to collect 1.25 million petitions.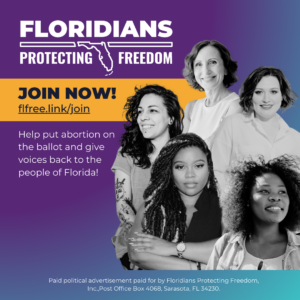 Access the full campaign site at floridiansprotectingfreedom.com.
How can you help?
Paid political advertisement provided in-kind by Progress Florida, 200 2nd Ave S, Ste 808, St. Petersburg, FL 33701