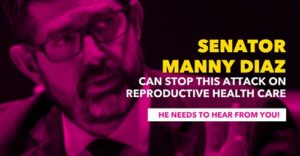 We don't need ideological grandstanding; we don't need bans on health care. We need effective politicians from both sides of the aisle who are willing to work to help struggling Floridians.
A new extreme abortion ban, Senate Bill 744, has been filed by Senator Ana Maria Rodriguez (R-Doral) in the Florida Legislature. The bill threatens access to abortion for women not just in Florida but across the southeast US. But Senator Manny Diaz can easily stop this attack on women by choosing not to place it on the agenda of the Health Policy Committee which he chairs. This would free legislators to focus on what they should be focusing on – dealing with a pandemic that has made over 1.6 million people sick in this state.
TAKE ACTION NOW:
Use Planned Parenthood's action portal to quickly send a letter to Sen. Diaz.