Warning: Anti-abortion centers harm pregnant Floridians.
"Florida women describe being harassed, bullied, and given blatantly false information at fake clinics. These fake clinics undermine the trust at the foundation of the patient-provider relationship by posing as health care providers and peddling inaccurate medical information." – Dr. Nicole Fanarjian, OB/GYN
Any reason you may seek an abortion is valid. Learn about your options and find a legitimate provider at abortionfinder.org.
Have you visited an anti-abortion center? Tell your story here.
Did you know there are 192 anti-abortion pregnancy centers operating across Florida? Sometimes calling themselves "crisis pregnancy centers", these anti-abortion pregnancy centers deceive and shame Floridians seeking comprehensive reproductive health care including abortion care. Many of these are state-funded with taxpayer dollars: in 2023, Gov. Ron DeSantis allocated $25 million a year towards these centers.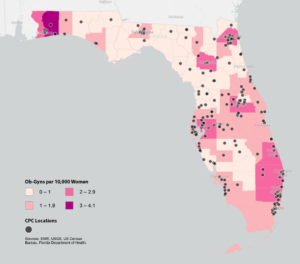 When someone has decided to have an abortion, they should have support and respect, and their experience should be without shame or pressure. Unfortunately, anti-abortion pregnancy centers create the exact opposite experience for folks as they exist to talk women out of abortions. Fueled by a staunch anti-abortion agenda, they use free pregnancy tests and ultrasounds for persuasion instead of medical diagnosis.  Anti-abortion pregnancy centers have become the local organizing force for the anti-abortion movement. Find a list of Florida "crisis pregnancy centers" here.
Anti-abortion pregnancy centers purport to offer pregnancy-related health care and medical services, but fail to provide comprehensive, evidence-based medical care. Using lies and manipulative practices, they work to shame women out of getting reproductive care – particularly birth control and abortion:
You won't get abortion help or even birth control at a fake clinic.
Deceptive advertising is their M.O. as they adopt names that sound like actual reproductive health centers.
They intentionally locate on the same block, sometimes even in the same building, as actual abortion providers.
They place deceptive ads under internet searches for "abortion."
They lie about risks associated with the abortion procedure, linking abortion to increased risk of infertility and breast cancer.
Their staff and volunteers may pose as medical professionals wearing scrubs or white coats.
They often schedule appointments as far out as possible because they know timing is critical with any pregnancy. Women who wait may face costs that are prohibitive or be too far along to get an abortion.
Tricking, shaming, and scaring potentially pregnant women is unjust. Floridians deserve timely access and a full range of care options, not medically inaccurate information pushed on them by anti-abortion pregnancy centers.
Extremists in the Florida Legislature have repeatedly attacked women's health care, in particular targeting access to safe and legal abortion. One avenue of attack has been legitimizing anti-abortion pregnancy centers through legislation. In 2018, then Gov. Rick Scott signed a law requiring Florida taxpayers to permanently fund anti-abortion pregnancy centers, and in 2023, Gov. Ron DeSantis signed a bill to increase funding to $25 million annually. Despite the proven public health need for women to be able to access the full range of timely and affordable reproductive health care services, our State government is funding anti-abortion pregnancy centers that do the exact opposite.  Find out more in our 2021 exposé that uncovers a proliferation of false and deceptive medical information, inflated reimbursement rates, and wasteful spending.
We're fighting back.
Publishing evidence. Evidence collected from the Florida Dept. of Health documents acquired through Florida's Sunshine Law, as well as those obtained from anti-abortion pregnancy centers websites and mailings, led to the publication of an exposé report. Check out our findings which uncover a proliferation of false and deceptive medical information, inflated reimbursement rates, and wasteful spending in our report, "Inefficiency and Ideology Within the Florida Pregnancy Support Services Program Wastes Millions in Taxpayer Dollars".
Speaking truth to power. The Floridians for Reproductive Freedom (FRF) Fake Clinics Work Group is demanding that the DOH holds anti-abortion pregnancy centers accountable and is working to expose anti-abortion pregnancy centers in our own communities.  In July of 2018, we delivered a petition signed by more than 5,500 Floridians demanding more DOH oversight of the anti-abortion pregnancy center network and their local operations.
Acting locally.  Members of our work group regularly host community events to raise awareness of local ant-abortion pregnancy center operations and the fact that they are not bonafide women's health centers.
Reaching out to candidates. Members work to get anti-abortion pregnancy centers-related questions to organizers of an upcoming candidate forums or candidate questionnaires. This works to inform elected officials and the general public of anti-abortion pregnancy centers' existence in Florida communities.
Getting fake clinics out of public schools. School boards in Florida are allowing anti-abortion pregnancy center staff onto approved guest speaker lists for teachers to invite into their classrooms to cover topics around sexual health.  Some counties are even contracting with anti-abortion pregnancy centers to provide sexual health education. Our work group is studying this issue as we develop strategy.
Get involved. Action steps to take now.
Whether you are interested in working for policy change at the State level or in exposing an anti-abortion pregnancy center in your own town, the FRF Fake Clinic Work Group welcomes your involvement.
Have you visited an anti-abortion center? Tell your story here.