The Taco or Beer Challenge (August 17 – September 12, 2021 ) is a nationwide annual event that helps raise money and awareness for local abortion funds. It's super-easy and fun to get involved!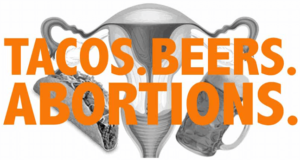 Here's how to participate:
1.) Eat a taco or drink a beer (or both, and any beverage is fine) — and take a selfie or video.
2.) Donate to an abortion fund. Find your local Florida abortion fund here.
3.) Post your selfie with a message about why you love your abortion fund.
Tag some friends and challenge them to join you!
Post your challenge on social media using the #ToBC21 hashtag. Use this gallery of English and Spanish shareable social media challenge images to tag in your friends, coworkers, and loved ones.