Despite attacks on abortion rights and access, at both the national and state levels, the Floridians for Reproductive Freedom coalition sees many opportunities for proactive advancements and support at the local level for control over our bodies, our families, and our life's path.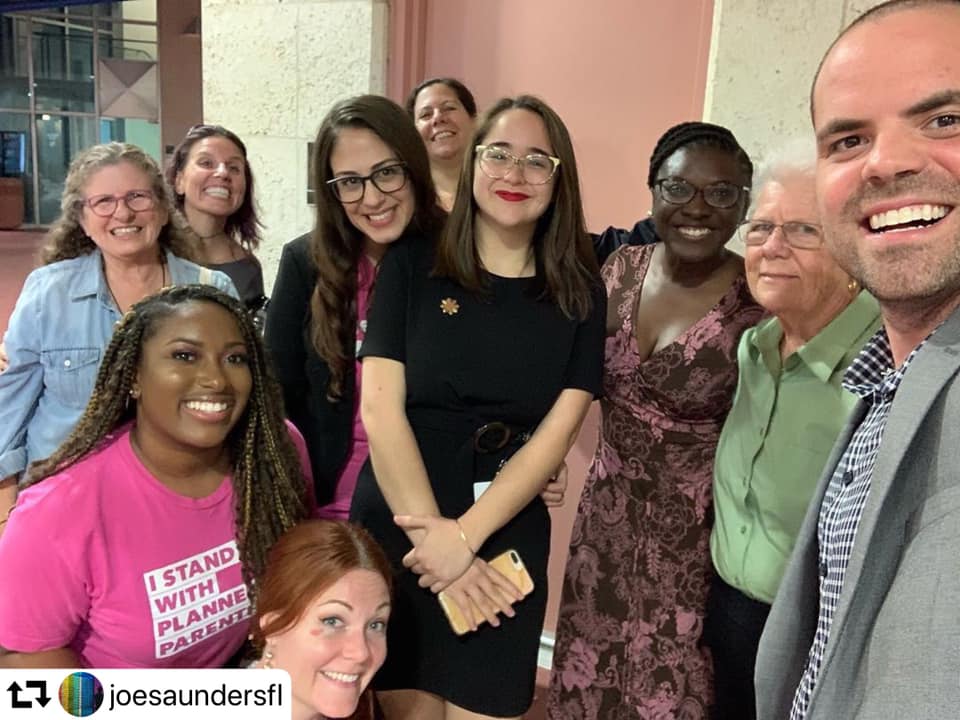 As such, a Local Campaigns Work Group was formed in 2020 with the mission to collaborate with local elected officials to pass resolutions across Florida insupport of reproductive rights and justice policies. So far, resolutions have been passed by the cities of Miami Beach (7/17/19), Hallandale Beach (2/19/20), St. Petersburg (6/4/20), Ft. Lauderdale (9/09/21), Wilton Manors (9/14/21), Broward County Soil and Water Conservation Board (9/16/21), North Bay Village (10/12/21), Lauderdale Lakes (10/12/21), Coral Springs (10/20/21), Gainesville (10/21/21), Tallahassee (10/27/21), Broward County (11/04/21), Dania Beach (11/09/21), Gulfport (letter, not resolution – 12/03/21), Lauderhill (7/11/22).
Reproductive freedom is an important value for Floridians. Research shows widespread support for abortion access in Florida and across the country. A majority think abortion should be legal in most cases (65%) and do not think Roe v. Wade should be overturned (72%). Eighty percent agree that as long as abortion is legal, women should be able to get safe, affordable, quality abortion care in their communities.¹
Governments at the state and federal levels are backsliding on reproductive health. During the Trump-Pence era, policies were put in place to ban abortion, cut maternity coverage out of health plans, defund Planned Parenthood and other family planning providers, and limit access to affordable birth control. Although the new Biden-Harris administration supports reproductive rights, the balance of the Supreme Court remains stacked against abortion rights. 
The opposition is working aggressively and systematically to pass anti-abortion laws at the state level in hopes that the newly conservative Supreme Court will uphold them. Here in Florida, the Legislature has attempted to pass many restrictive laws to impede access to abortion. This includes targeted regulation of abortion providers, otherwise known as TRAP laws, that are medically unnecessary and pose a significant burden on abortion providers, and even an all-out abortion ban. In 2020, a bill requiring parental consent for minor to obtain an abortion was passed, which further restricts youth's access to abortion.
Ideological anti-abortion restrictions out of Tallahassee or Washington become reality on the local level, pushing reproductive health care, such as abortion, out of reach for people already facing many barriers: young people, people of color, people with disabilities, people with low incomes, immigrants of all statuses, and people who live in rural areas. The impact is real for our neighbors, our communities and our families.
Amid the continued onslaught against reproductive health care, many cities have recognized both their responsibility and ability to advance reproductive freedom. Local leaders can make clear that they stand on the side of reproductive freedom and pursue proactive policies to expand access in our communities.
Local government entities can support reproductive health by declaring a firm commitment to reproductive freedom. Municipalities and counties across the country are taking action to protect abortion rights, reproductive health care, and individuals' rights to make reproductive decisions about their own bodies. City and county governments across the country are engaging in a national countermovement to protect and advance reproductive health, rights, and justice. Such a step declares that a community values access to compressive reproductive health care and fights back against pervasive abortion stigma. 
Working on such policies can make communities bright spots for reproductive health and rights — even in a place like Florida with our hostile state government. Local governmental actions are not only important for their residents, but reverberate beyond their borders. We know that in Florida, our cities are where most people access abortion care, and many access the full range of reproductive health care. 
Progress starts at the local level. Now is the time for cities and counties to do everything they can to protect residents against harmful actions by anti-abortion lawmakers at the state and federal levels.
The FRF Local Campaigns Work Group is committed to working with Florida communities to ensure everyone has access to respectful, quality, and affordable reproductive health care, including abortion.
***
We have provided a resource guide for local elected officials who are interested in engaging with the Local Campaigns Work Group and protecting reproductive freedom in their municipality. Elected officials can view the guide through this link. As this guide contains valuable and sensitive material, elected officials will need to identify themselves in the "message" box, then click on the request access button in order to gain access to the document.
***
Whether you are interested in working for policy change at the City, County, or State level, your involvement is welcome. Please contact Local Campaigns Work Group chairs Nancy or Yordanos for more information.
——
¹ PerryUndem/National Institute for Reproductive Health survey, "Engaging Voters on Abortion," fielded Aug. 19-Sept. 1, 2017. Internal polling – briefing available upon request.