Presione aquí para tener acceso a una lista portavoces de habla hispana en nuestro buró de oradores así como a una lista de contactos de medios.
This Speakers Bureau and Media Contact List is a central resource for civic groups, professors/instructors, and the media. Please use the list below to identify those who can provide expert presentations, serve on panel discussions, and/or be interviewed on reproductive health, reproductive rights, and reproductive justice representing their own organizations. They do not speak for the Floridians for Reproductive Freedom coalition. The geographical area covered by each person is noted.
Latina Institute for Reproductive Justice FL
Aurelie Colon Larrauri, Policy Advocate
Miami and Broward area
Abortion Access, Advocacy / Legislative Process, Reproductive Justice / Intersectionality, Reproductive Rights Movement, Women's Rights
A Woman's Choice of Jacksonville

Amber Gavin
, VP of Advocacy & Operations.
Jacksonville (Duval County), South FL (Broward, West Palm Beach, and Miami-Dade Counties), Central FL (Orange and Osceola Counties), Tallahassee

Abortion Access, Adolescent Reproductive Health, Grassroots Organizing / Political Mobilization, LGBTQ Health & Rights, Reproductive Justice / Intersectionality, Reproductive Rights Movement, Sex Education – Advocacy, Sex Education – Instruction / Curriculum, Sex and Sexuality, Sexually Transmitted Diseases/Infections, Transgender Rights & Reproductive Health/Rights, Youth Issues
Ruth's List Florida
Emma Collum, Chair, Founder, Elected Supervisor, Founder, Immediate Past President
Broward, Palm Beach, Miami, Orlando, Tampa, Tallahassee
Advocacy / Legislative Process, Grassroots Organizing / Political Mobilization, Local Anti-Abortion Policy Defense, Proactive Reproductive Rights Policies / Resolutions / Ordinances, Reproductive Rights Movement, Women's Rights
Florida Access Network
Stephanie Loraine,  Executive Director
Central Florida
Abortion Access, Abortion Access, Abortion Provision / Abortion Methods, Advocacy / Legislative Process, Contraception, Emergency Contraception, Anti-Abortion Pregnancy Centers / Fake Clinics /CPCs, Grassroots Organizing / Political Mobilization, LGBTQ Health & Rights, Reproductive Justice / Intersectionality, Reproductive Rights Movement, Sex Education – Advocacy, Sex and Sexuality, TRAP and Other Abortion Barrier Laws, Women's Rights
Florida Access Network
Ysabella M. Osses, Director of Advocacy and Organizing at Florida Access Network
 South Florida, Broward, Miami
Abortion Access, Abortion Access, Abortion Provision / Abortion Methods, Advocacy / Legislative Process, Contraception, Emergency Contraception, Anti-Abortion Pregnancy Centers / Fake Clinics /CPCs, Grassroots Organizing / Political Mobilization, LGBTQ Health & Rights, Reproductive Justice / Intersectionality, Reproductive Rights Movement, Sex Education – Advocacy, Sex and Sexuality, TRAP and Other Abortion Barrier Laws, Women's Rights
Southern Birth Justice Network
Jamarah Amani, Executive Director
South Florida
Healthy Pregnancy, Birth Justice, Maternal Health and Rights, Midwives, Doulas
Tampa Bay Abortion Fund
Kris Lawler, Volunteer & Board President
Hillsborough and Pinellas Counties
Abortion Access
Florida Health Justice Project
Alison Yager, Executive Director
Miami-Dade
Abortion Access, Adolescent Reproductive Health, Advocacy / Legislative Process, Contraception, Healthy Pregnancy, Reproductive Justice / Intersectionality, Sex Education – Advocacy
Miami-Dade Commission for Women
Monica Skoko Rodriguez, Executive Director
Miami-Dade, Broward
Abortion Access, Abortion Provision / Abortion Methods, Adolescent Reproductive Health, Advocacy / Legislative Process, Contraception, Emergency Contraception, Grassroots Organizing / Political Mobilization, Healthy Pregnancy, LGBTQ Health & Rights, Male Reproductive Health, Proactive Reproductive Rights Policies / Resolutions / Ordinances, Reproductive Justice / Intersectionality, Reproductive Rights Movement, Sex Education – Advocacy, Sexually Transmitted Diseases/Infections, Women's Rights
Florida National Organization for Women (NOW)
Barbara DeVane, Lobbyist and Tallahassee NOW Vice President
Mostly Central and N. FL
Advocacy / Legislative Process, Grassroots Organizing, Reproductive Rights Movement, Women's Rights
Women's Alliance of Southwest Florida
Dr. Lisa Freund, Legislative Director
SWFL and South Florida
Grassroots Organizing, Editorial writing (Commentaries, Letter-to-the-Editor)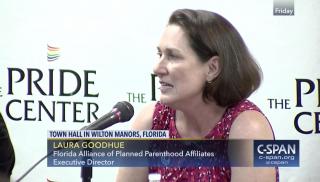 Florida Alliance Planned Parenthood Affiliates
Laura Goodhue, Executive Director
Tallahassee, Gainesville, Orlando, South FL
Abortion Access, Abortion Provision / Abortion Methods, Advocacy / Legislative Process, Contraception, Emergency Contraception, Fake Clinics, Grassroots Organizing, Male Reproductive Health, Reproductive Rights Movement, Sex Education – Advocacy, Sex Education – Instruction, Sex and Sexuality, Sexually Transmitted Diseases/Infections, TRAP and Other Abortion Barrier Laws
Empowering Pinellas Youth Collaborative
Dr. Linsey Grove, Co-Chair
Central Florida (Pinellas to the Space Coast; Manatee to Hernando)
Adolescent Reproductive Health, Advocacy / Legislative Process, Contraception, Sex Education – Advocacy, Sex Education – Instruction, Sex and Sexuality, Sexually Transmitted Diseases/Infections, Youth Issues
USFSP
Jill McCracken, Associate Professor
Tampa Bay area including all counties
Adolescent Reproductive Health, Contraception, Emergency Contraception, Grassroots Organizing, LGBTQ Reproductive Health & Rights, Sex Education – Advocacy, Sex Education – Instruction, Sex and Sexuality, Sexually Transmitted Diseases/Infections, Transgender Rights & Reproductive Health/Rights, Women's Rights, Youth Issues, sex work, prostitution, and trafficking in the sex industry
Florida National Organization for Women (NOW)
Terry Sanders, Brevard NOW
Brevard, Indian River, Orange Counties
Abortion Access, Abortion Provision / Abortion Methods, Advocacy / Legislative Process, Anti-Abortion Pregnancy Centers / Fake Clinics /CPCs, Local Anti-Abortion Policy Defense, Proactive Reproductive Rights Policies / Resolutions / Ordinances, Reproductive Justice / Intersectionality, Reproductive Rights Movement, TRAP and Other Abortion Barrier Laws, Women's Rights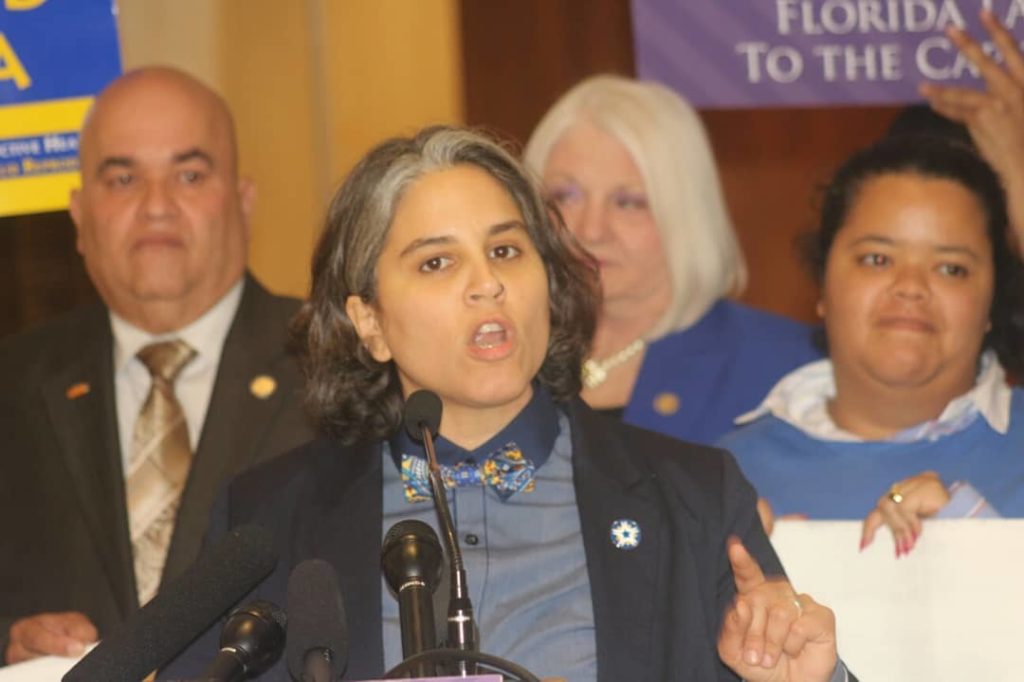 Latina Institute for Reproductive Justice FL
Charo Valero, Florida State Policy Director
South and Central Florida
Advocacy / Legislative Process; Fake Clinics; Grassroots Organizing; Intersectionality and Reproductive Justice; LGBTQ Reproductive Health & Rights; Transgender Rights & Reproductive Health/Rights; Women's Rights
Progress Florida
Amy Weintraub, Reproductive Rights Program Director
Tampa Bay region and statewide via Zoom
Abortion Access, Emergency Contraception, Anti-Abortion Pregnancy Centers / Fake Clinics /CPCs, Reproductive Rights Movement, Sex Education – Advocacy, TRAP and Other Abortion Barrier Laws, Women's Rights, Self-Managed Abortion / Medication Abortion
Pro Choice Advocacy League and POLK County NOW
Donna Windsor
Polk
Abortion Access, Advocacy / Legislative Process, Fake Clinics, Grassroots Organizing, Reproductive Rights Movement, Women's Rights, Escorting patients; Grassroots Organizing; Women's Rights