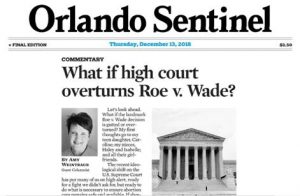 What if Roe v. Wade is overturned?
By Amy Weintraub
Orlando Sentinel
Let's look ahead. What if the landmark Roe v. Wade decision is gutted or overturned?
Will the Supreme Court Overturn Roe v. Wade After All?
By Louise Melling
New York Times
When the Supreme Court declined on Monday to hear cases brought by Louisiana and Kansas attempting to exclude Planned Parenthood and other abortion providers from their Medicaid programs, legal soothsayers were out in full force opining about what it means for the future of abortion rights under the newly constituted court.
Justices won't hear states' appeal over Planned Parenthood
By Mark Sherman
Associated Press
The Supreme Court on Monday avoided a high-profile case by rejecting appeals from Kansas and Louisiana in their effort to strip Medicaid money from Planned Parenthood, over the dissenting votes of three justices.
The Supreme Court's surprising decision on Planned Parenthood, explained
By Anna North
Vox
The Supreme Court on Monday declined to take up two cases that could have given states broader leeway to strip funding from Planned Parenthood.
Tampa Bay Planned Parenthood reacts to Supreme Court decision on funding
By Eric Glasser
WTSP Tampa Bay
On Monday, the U.S. Supreme Court declined to hear cases from Kansas and Louisiana. Both states passed laws cutting off Medicaid reimbursements for Planned Parenthood in an attempt to defund the health-care services provider.
Court: Trump can't let companies deny birth control coverage
By Sudhin Thanawala
Associated Press
A divided U.S. appeals court Thursday blocked rules by the Trump administration that allowed more employers to opt out of providing women with no-cost birth control.
Floridians are spending on average 8 percent of their income on health premiums, says report
By Xander Peters
Orlando Weekly
A new report from the consumer advocacy group the Commonwealth Fund found that Sunshine State residents are spending a whopping 8 percent of their annual income on health insurance premiums alone.
Research Gaps Leave Doctors Guessing About Treatments For Pregnant Women
By Alison Kodjak
NPR
Jenna Neikirk was nearing the end of her first pregnancy when her blood pressure shot up to dangerous levels.
State-Level Estimates of Contraceptive Use in the United States, 2017
By Ayana Douglas-Hall, Kathryn Kost and Megan L. Kavanaugh
Guttmacher Institute
This report presents new state-level estimates of contraceptive prevalence among women of reproductive age in the United States.
Zika Cases In Florida At 93 So Far This Year
Staff Report
News Service of Florida
As the end of the year approaches, Florida has reported 93 cases of the mosquito-borne Zika virus in 2018, according to numbers posted Monday on the state Department of Health website.
Five Years Since It Was First Introduced, It's Time to Renew the New Family Leave Act
By Terri Gerstein
Slate
Five years ago on Wednesday, the Family and Medical Insurance Leave Act of 2013, or FAMILY Act, was first introduced in Congress