Pro-choice advocates call Florida abortion bill 'most extreme' ever in US
By Christine Stapleton
Palm Beach Post
"This is the most extreme bill that has been presented anywhere in the U.S," said Amy Weintraub, the Reproductive Rights Program Director for Progess Florida. "It's clearly unconstitutional in every way and it is blatant attempt to end access to abortion care for Florida women."
GOP lawmaker files extreme anti-abortion "heartbeat" bill in Florida House
By Mitch Perry
Florida Phoenix
Pensacola House Republican Mike Hill has filed restrictive anti-abortion legislation that would prohibit a pregnant woman from getting an abortion in Florida if a physician detects a fetal heartbeat.
With Higher Stakes In The Abortion Debate, Activists March On Washington
By Sarah McCammon
NPR
On Friday, as they have for decades, anti-abortion rights activists will march through Washington, D.C., to the U.S. Supreme Court – a location that symbolizes the long-held goal of reversing the Roe v. Wade decision that legalized the procedure nationwide in 1973.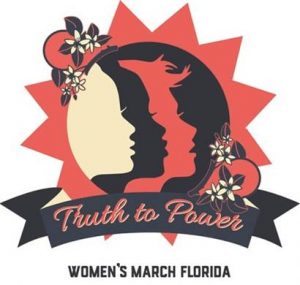 Women's March activists reflect on the movement, two years later
By Marissa J. Lang
Washington Post
Millions of women across the country and around the world joined in protest on Jan. 21, 2017, for the Women's March on Washington.
Women's March 2019: 'We celebrate the spirit of solidarity; we march for rights for all'
By Britt Kennerly
Florida Today
Kathy Smith recalls having no clue how many people would show up for the first Brevard Women's March, much less who'd be in the crowd at the Eau Gallie Causeway.
Women's Wave
By Shelton Hull
Folio Weekly Jacksonville
It's Washington, D.C., Jan. 21, 2017, and attorney Emma Collum is helping to coordinate the more than 27,000 women who had taken buses north from all over the state of Florida to participate in the inaugural Women's March.
Women To March In Tallahassee This Weekend
By Casey Chapter
WFSU Tallahassee
As thousands of women gather in solidarity this weekend, Tallahassee will be hosting its own women's march.
SECOND CUP: Tallahassee Women's March (includes video)
Staff Report
WTXL Tallahassee
Lauren Brenzel shared with Second Cup details about the Tallahassee Women's March.
Marco Rubio Champions Pro-Life Bills in the Senate
Staff Report
Sunshine State News
On Tuesday, U.S. Sen. Marco Rubio, R-Fla., introduced a proposal making it a federal crime for a doctor to knowingly perform an abortion on an out-of-state minor without parent consent.
Hearing set on abortion waiting period
Staff Report
News Service of Florida
A state appeals court will hear arguments in March about the constitutionality of a 2015 law that would require women to wait 24 hours before having abortions.
Battles expected in many states over abortion-related bills
By David Crary
Associated Press
On each side of the abortion debate, legislators and activists emboldened by recent political developments plan to push aggressively in many states this year for bills high on their wish lists: either seeking to impose near-total bans on abortion or guaranteeing women's access to the procedure.
Judge blocks Trump birth control coverage rules in 13 states
By Sudhin Thanawala
Associated Press
A U.S. judge in California on Sunday blocked Trump administration rules, which would allow more employers to opt out of providing women with no-cost birth control, from taking effect in 13 states and Washington, D.C.
No-cost birth control, now the norm, faces court challenges
By Ricardo Alonso-Zaldivar
Associated Press
Millions of American women are receiving birth control at no cost to them through workplace health plans, the result of the Obama-era Affordable Care Act, which expanded access to contraception.
Anti-Choice Clinics Are Changing the Way They Operate to Qualify for Government Funding
By Garnet Henderson
Tonic
Faith-based crisis pregnancy centers (CPCs)—which espouse anti-choice, anti-birth-control, and pro-abstinence values—have historically existed outside the medical system.
Planned Parenthood president visits West Palm Beach
By Alanna Quillen
WPTV West Palm Beach
A national figure in women's health made a stop in West Palm Beach on Thursday.
Notorious RBG' Co-Author Irin Carmon to Speak in Naples
By Justin Paprocki
Gulfshore Life
Carmon, who co-wrote a biography of Supreme Court Justice Ruth Bader Ginsburg, is speaking at The Choice Affair dinner Feb. 9.