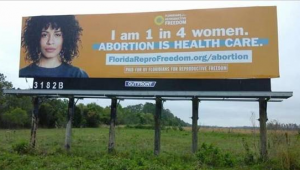 One of the 24 #FLAbortionRights billboards seen driving to and from and all around the Capitol building in Tallahassee.
Abortion rights for teens under attack
By Amy Weintraub
Tampa Bay Times
As bills restricting teen access to abortion are being considered again by the Florida Legislature, my thoughts turn to my own children.
Activists tossed from hearing as Florida House panel OKs parental consent for abortion
By Gray Rohrer
Orlando Sentinel
The fight over abortion laws is back in the Legislature, and on Tuesday it prompted the rare removal of two activists from a committee hearing after heated debate on an abortion bill.
A measure to require parental consent for teenagers who want to end their pregnancies advances in Legislature
By Lloyd Dunkelberger
Florida Phoenix
Creating a path that could allow a conservative-majority state Supreme Court to further restrict a woman's  reproductive rights, a bill requiring teenage girls to get parental consent before having an abortion passed its first committee.
Erin Grall seeks parental consent requirement for teen abortions
By Jacob Ogles
Florida Politics
Excerpt: But pro-choice leaders slam the effort as one more limit in access for young girls in need of an abortion. "The minority of teens who do not voluntarily consult a parent often have good reason not to," writes Amy Weintraub, Reproductive Rights Program director for Progress Florida. "Many come from families where such an announcement would only exacerbate an already volatile or dysfunctional family situation."
Gaetz pushes for abortion restrictions, funding for faith-based clinics during Milton visit
By Jim Little
Pensacola News Journal
The national debate surrounding abortion came to Northwest Florida on Friday as U.S. Rep. Matt Gaetz advocated for the passage of tougher abortion restrictions and for federal funding for faith-based pregnancy centers during a visit to a clinic in Milton.
Bill aims to get Medicaid coverage for donor breast milk: 'Something like this makes smart policy'
By Naseem S. Miller
Orlando Sentinel
Medicaid would be required to cover pasteurized donor breast milk for some premature babies under proposed legislation that supporters — including an Orlando milk bank — say would help save vulnerable newborns and health-care dollars because mother's milk helps babies thrive and require fewer hospital visits.
Will Florida usher the Equal Rights Amendment into the U.S. Constitution?
By Linda Saul-Sena
Creative Loafing Tampa Bay
Wouldn't it be wonderful for Florida to do something positive that we could be proud of?
Senate Democrats Call for Hearing on Trump's Domestic 'Gag Rule'
By Katelyn Burns
Rewired
A group of Senate Democrats sent a letter on Monday to committee leadership demanding a hearing on the Trump administration's newly finalized rule restricting family planning funding, dubbed the domestic "gag rule" by opponents.
Cecile Richards on 2020 Elections and Florida: "This Is Not a Static State"
By Ciara LaVelle
Miami New Times
Everywhere Cecile Richards goes, women ask her one question: "What should I do?"
Zika no longer a major threat in Florida
By Cindy Krischer Goodman
South Florida Sun Sentinel
U.S. health officials are easing warnings against travel to Florida and other regions of the country where the Zika virus had been circulating.
Report: Leon County again ranked No. 1 in Florida for new cases of chlamydia
Staff Report
WTXL Tallahassee
According to a newly released study, Leon County leads all of Florida's 67 counties for the rate of newly diagnosed cases of chlamydia — for the fourth year in a row.