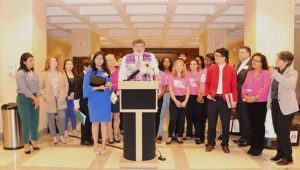 On Wednesday, the Florida Interfaith Coalition for Reproductive Health and Justice held a news conference at The Capitol. "We are both people of faith and pro-choice. We are not divided by those two beliefs," said Gaby Garcia-Vera of Catholics for Choice.
Florida Abortion Bill Would Require Judge to Rule if Teen's Mature Enough to Terminate Pregnancy
By Jenni Fink
Newsweek
If a Florida bill becomes law, teenagers who don't get permission from their parent or guardian to get an abortion will have to plead their case before a judge, presenting a problem that teenagers deemed too immature to have an abortion might be considered mature enough to have a child.
Teenagers' Abortion Rights Are About to Be Further Eroded in Florida
By Auditi Guha
Rewire
Kristen Erichsen was 15, pregnant, and "terrified" when she appeared in court for a judge to decide her future.
A Surge in Bans on Abortion Before Most People Know They Are Even Pregnant
By Elizabeth Nash
Guttmacher Institute
Antiabortion activists and politicians have kicked their decades-long agenda to ban abortion in America into high gear through a series of increasingly radical and dangerous state-level laws.
Asking for An Abortion: Two Women's Journeys of Self-Doubt & Suicidal Thoughts in Seeking Judge's Approval
By Jenni Fink
Newsweek
Florida legislators are pushing for minors to get their parent's permission before having an abortion, leaving those who can't, to plead their case before a judge.
Pushing for 'heartbeat' abortion bills, more states try to force Supreme Court to revisit
By Rachana Pradhan
Politico
More state lawmakers are pushing "heartbeat" bills that ban abortion as early as six weeks into pregnancy in a bid to trigger a Supreme Court decision overturning Roe v. Wade.
How Many States Have Passed A "Heartbeat Bill" Restricting Abortion? The Answer May Surprise You
By Naaz Modan
Romper
Mississippi Gov. Phil Bryant signed a bill on Thursday that would make it even more difficult for pregnant women to get an abortion in a state that already only has one abortion clinic.
Groups gathered in Tallahassee to announce opposition of bills restricting access to abortion
Staff Report
News Service of Florida
Several abortion-rights groups gathered with like-minded faith groups in Tallahassee announcing their opposition to a pair of bills that would restrict access to abortion in Florida.
Longtime Florida Lobbyist Barbara DeVane Addresses Being Asked To Leave Committee Meeting
By Ryan Dailey
WFSU
On Tuesday, a bill requiring minors to get parental consent before having an abortion was in the House Health Quality Subcommittee. Much of the public testimony was emotional. But it was an assertion by Republican Representative Jennifer Sullivan that prompted DeVane to speak out – breaking decorum rules.
Abortion Rights group to voice their displeasure with the anti-abortion bills
Staff Report
News Service of Florida
Several abortion-rights groups gathered with like-minded faith groups in Tallahassee Wednesday, announcing their opposition to a pair of bills that would restrict access to abortion in Florida.
Florida abortion laws lack common sense
By Maria Ranoni
The USF Oracle
A recent bill that has made headlines across Florida proposes adding a parental consent requirement to existing statutes governing how minors can get abortions.
Summary of abortion-related bills filed in the 2019 Florida legislative session
By John Haughey
Florida Watchdog
Nearly two dozen abortion-related bills are idling in Florida legislative committees awaiting hearings with seven weeks of the 10-week session remaining.
Florida court weighs abortion waiting period
By Dara Kam
News Service of Florida
A legal battle involving one of the nation's most emotionally charged issues continued Tuesday in Florida, as a three-judge appellate panel heard arguments in a long-running dispute over a 24-hour waiting period for abortions.
Vice President Pence talks abortion, more at Ave Maria University
Staff Report
WBBH Naples
Vice President Mike Pence visited Ave Maria University Thursday afternoon.
Meet the Planned Parenthood organization at FAU
By Cameren Boatner
University Press
Members of FAU's Generation Action chapter stood in the free speech lawn counter-protesting the anti-abortion protestors flaunting large signs of aborted fetuses.
Dip into Social Security savings to pay for parental leave? That's Marco Rubio's plan.
By Steve Contorno
Tampa Bay Times
Most of the industrialized world offers new parents paid time off to care for a newborn or recently adopted child — except the United States.
Leon County has highest chlamydia rate in Florida
By Jeff Burlew
Tallahassee Democrat
Leon County earned a dubious public health distinction, becoming No. 1 in Florida for new chlamydia infections.