(Some of the news stories below may require a subscription to read.) 
FL abortion providers prepare for 15 week ban to become law; expect women to seek abortions out of state
By Robert Bradfield
First Coast News
Florida's proposal to ban abortions after 15 weeks has pro-choice and pro-life supporters at odds.
New poll finds the majority of voters opposed to banning abortion after 15 weeks
By Anne Geggis
Florida Politics
With the Senate poised to pass Florida's most restrictive abortion ban since the procedure became legal, a new poll shows most voters are opposed to the change.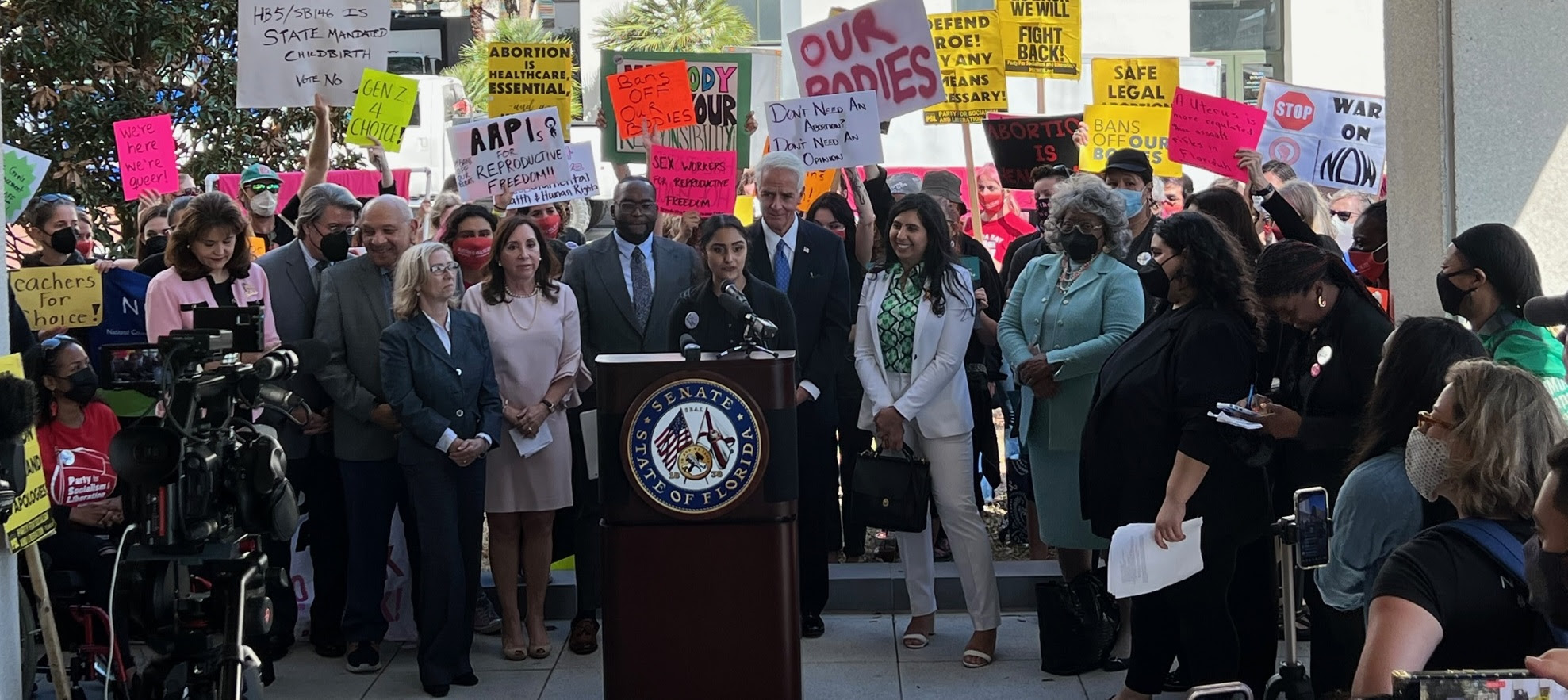 'Ban off our Bodies': A rallying cry for reproductive freedom as 15-week abortion ban appears imminent
By Imani Thomas
Florida Phoenix
Florida lawmakers and hundreds of activists on Tuesday rallied to raise their voices in the fight for reproductive freedom, chanting "Ban off our Bodies" as the Legislature gets closer to a final vote on a 15-week abortion ban.
Abortion clinics and pregnancy centers gear up for 15-week abortion ban
By Jake Stofan
Capitol News Service
Legislation that would ban most abortions after 15 weeks of pregnancy is nearing final passage in the Florida Legislature and abortion clinics and pregnancy care centers are already preparing for the law to change.
How dare the Legislature criminalize the vital medical care I provide
By Mayra Cruz Ithier
Tampa Bay Times
A woman in Poland named Izabela died in September in her 22nd week of pregnancy.
Florida Legislature, if you're going to rule over wombs, why not testicles, too?
By Fabiola Santiago
Miami Herald
Warning: This column on reproductive rights in Florida might contain graphic, sensitive commentary to Republican male ears.
Without access to safe abortion, Florida women and their families will take an economic hit
By Marya Meyer and Elizabeth Barijas-Roman
Miami Herald
This January marked the 49th anniversary of Roe v. Wade, the landmark U.S. Supreme Court ruling that affirmed that the Constitution protects a pregnant person's freedom to choose abortion.
Florida should improve health of children and families, not limit access to abortion
By Alison Yager
Miami Herald
The Florida Legislature is fast tracking legislation to deny basic healthcare to the state's nearly 4 million women of child-bearing age.
Florida's just-like-Mississippi abortion bill political exercise in cruelty to women
By Frank Cerabino
Palm Beach Post
Any time somebody claims we live in "the free state of Florida," tell them about Lizzie.  Lizzie isn't her real name. It was an alias given to her by Dr. Samantha Deans, the associate director of Planned Parenthood in Southeast Florida.
Without Roe v. Wade, their abortions wouldn't have been possible. Women and other people of color share their stories.
By Romina Ruiz-Goiriena
USA Today
Renee Bracey Sherman looked down at her credit card with the emblazoned rose design. It was for emergencies only.
State Abortion Restrictions Are Ramping Up Like Never Before As The Supreme Court Prepares To Make A Crucial Decision
By Nicole Fallert
BuzzFeed News
Emboldened by confidence that the US Supreme Court will disintegrate abortion rights later this year, conservative lawmakers are rushing to introduce and pass anti-abortion legislation.
The 19th Explains: 15-week abortion bans are on the verge of passing in three states. What does that mean?
By Shefali Luthra
The 19th
Three states are poised to pass laws banning abortions after 15 weeks of pregnancy — a limit not currently allowed under Roe v. Wade but one that could soon become legal if the landmark Supreme Court case is weakened or overturned, which is likely to happen this summer.
Florida's 15-week abortion ban will affect women in the Caribbean and Latin America, too
By Cindy Krischer Goodman and Brooke Baitinger
South Florida Sun Sentinel
Florida's controversial bill that would ban abortion after 15 weeks of pregnancy will affect women well beyond the state's borders.
It's Time to Get Loud on Abortion Rights
By Ennedith Lopez
Common Dreams
Earlier this year, a small group of women and I gathered to post artwork around Washington, D.C. We were celebrating the 49th anniversary of Roe v. Wade, which protected women's constitutional access to abortion.
Texas abortion seekers flooded out-of-state clinics after six-week ban went into effect, Planned Parenthood records show
By Tierney Sneed
CNN
Planned Parenthood clinics in the five states neighboring Texas saw a nearly 800% increase in abortion patients from the Lone Star State after a six-week ban went into effect in September, the organization said Thursday.
How Black Feminists Defined Abortion Rights
By Keeanga-Yamahtta Taylor
The New Yorker
It will probably be months before the Supreme Court decides, in Dobbs v. Jackson Women's Health Organization, whether to overturn Roe v. Wade.
We Need to Do More Than "Protect Roe"
By Katrina Kimport
The Nation
Supporters of abortion rights have reason to worry. Texas's SB 8, which effectively bans abortion after six weeks of pregnancy, is still in force, despite legal challenges to the blatantly unconstitutional law.
I Had Two Abortions. They've Undoubtedly Made Me a Better Mother.
By Rachel Wells
Rewire
My first pregnancy ended in miscarriage, my second in live birth, and my third in abortion.
Most People Want Over-the-Counter Abortion Pills, New Study Finds
By Carrie N. Baker
Ms. Magazine
Imagine a world where you can find abortion pills on the pharmacy or grocery store shelf next to condoms and pregnancy tests and buy them without a prescription.
Medication Abortion Now Accounts for More Than Half of All US Abortions
Staff Report
Guttmacher Institute
In 2000, the US Food and Drug Administration (FDA) approved mifepristone as a method of abortion.
Florida's Senate President wants to increase access to contraception
By Regan McCarthy
WFSU Tallahassee
Senate President Wilton Simpson wants to allocate state money for long-acting reversible contraception, often called LARCs, for low-income women and girls.