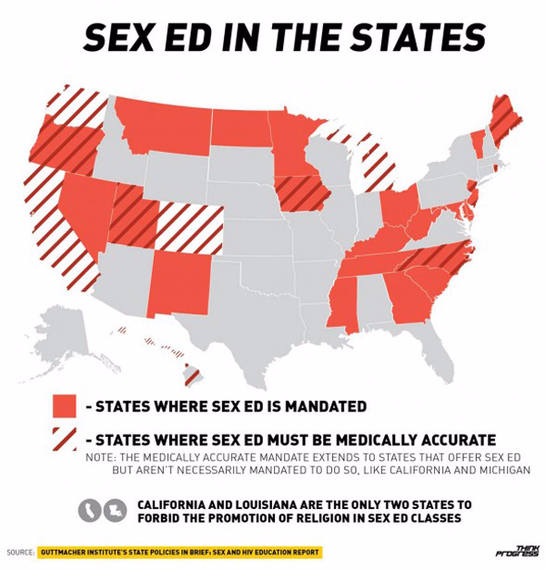 Providing teens and young people with the information they need to make responsible decisions about their sexual health is the common sense solution to reducing unintended teen pregnancy and sexually transmitted infections. Currently, however, comprehensive sex education is far from the norm in Florida public schools as the State does not require it (see 2018 Florida statute Title XLVIII, Chapter 1003.46). Generally, abstinence-only only material is used in Florida classrooms, with the core focus being on not having sex outside heterosexual marriage and no inclusion of material on birth control or safer sex.
According to Advocates for Youth, public opinion polls consistently show that more than 80 percent of Americans support teaching comprehensive sex education in high schools and in middle or junior high schools. In one poll, 85 percent believed that teens should be taught about birth control and preventing pregnancy; in another, seven in 10 opposed government funding for abstinence-only programs. Support for comprehensive sex education also cuts across party lines. In a poll of 1,000 self-identified Republicans and Independents, 60 percent of Republicans and 81 percent of Independents think that public schools should teach comprehensive sex education.
Get involved
Many of our coalition members are part of the Florida Healthy Youth Alliance — an exciting, and much needed, statewide initiative of dedicated health professionals and advocates. The Alliance supports medically accurate and inclusive sexual health education for Florida students.   Check out the Alliance fact sheet with key points supporting Florida schools offering sexual health education and send organizer, Dr. Elissa Barr, an email to be added to the Alliance email distribution list and receive information on meetings and events.
Other information and resources