Birth Control Resource Guide
All Floridians should have affordable and timely access to the full range of birth control options.  Now more than ever, barriers to getting birth control should be minimized while accurate birth control education and comprehensive reproductive health care services be maximized. Employers not covering birth control costs, laws funding abstinence-based only sex education, and "contraception deserts" are dangerous to the well-being and safety of people who have diverse and unique birth control needs.
The Floridians for Reproductive Freedom (FRF) Contraceptives Access Work Group has collected the following information which we offer as a Resource Guide on obtaining birth control care throughout the state of Florida, as well as additional education and advocacy info (printable format here):
About the Contraceptives Access Work Group
Our goals are to help maintain contraception access for individuals with barriers to birth control care like:
Lack of health insurance or high cost even with insurance
Transportation issues
Fear of discrimination
Concern over parental involvement
Language barrier
We also strive to connect patients, medical providers, & partner organizations to resources that offer cost-effective, comprehensive, & patient-centered birth control services.
We support advocacy efforts that expand Medicaid, government funds & private insurance plan coverage for birth control; empower patients & providers to learn full-spectrum of birth control options (beyond abstinence based or "natural" family planning methods).
We aim to increase messaging about and access to emergency contraception (Plan B, Ella) & long-acting reversible contraception (LARC) like IUD or implant as well as non-prescription birth control methods.
Check out our current campaign to urge Publix to make EC accessible to its customers by selling it from the Family Planning aisle rather than from behind the pharmacy counter: Hey Publix! #DontHideEC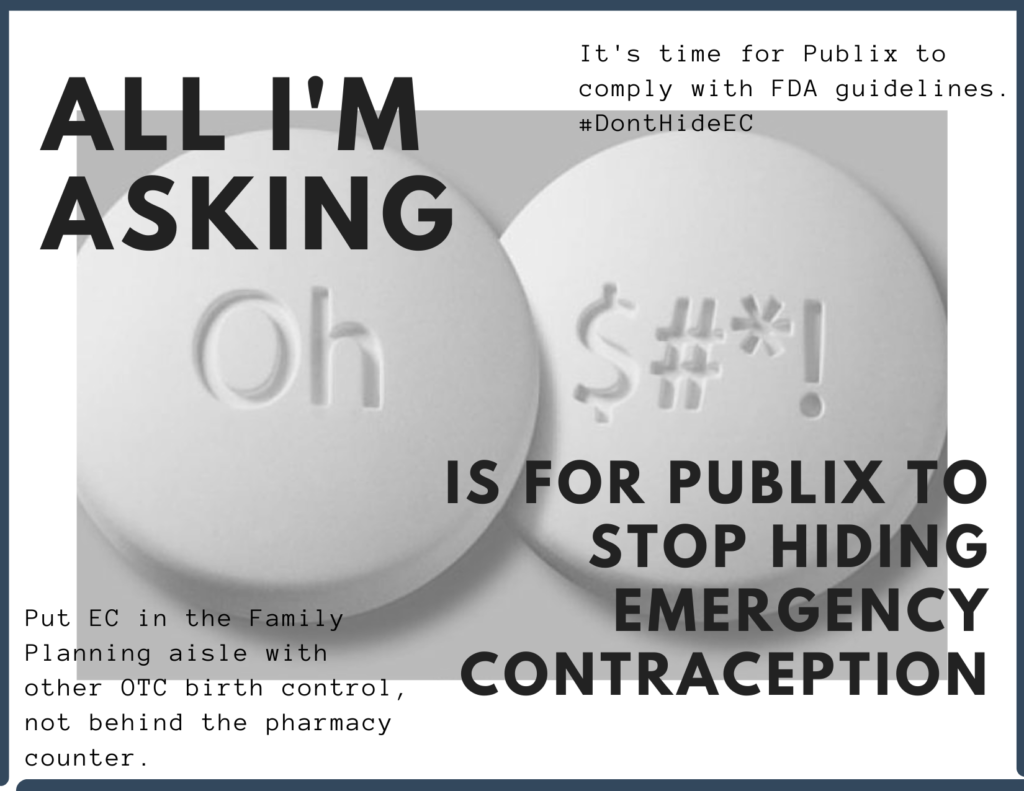 Get involved
Interested in working for policy change at the State level? The FRF Contraceptives Access Work Group welcomes your involvement.
Share links to this page and our Resource Guide on social media, email list serves, and local newsletters; share with your partner organizations/schools/clinics; may also download, print, and distribute.
-If you have information to add/edit, please email FRF Contraceptives Access Work Group Chair, Reesa Roberts.