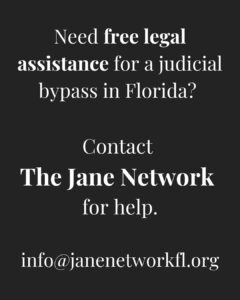 There are no legal fees for applying to get a judicial bypass for abortion in Florida. If you want the court to assign a lawyer to help you, that will be at no cost to you (See Do I need a lawyer? for more information.) 
At some courthouses, you may need to pay for parking.
You will have to pay for your clinic appointments related to the procedure. If you are unable to pay for your abortion, there are local and national funding networks that may be able to help you. See the list below. You should also ask your abortion provider if they can help with funding.
Related Questions