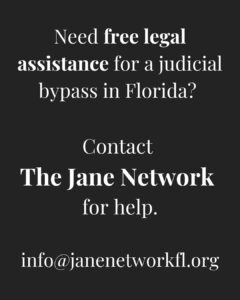 Florida law does not require you to have a lawyer to file a petition for a judicial bypass. However, you do have the right to request a court appointed lawyer, at no cost, in order to guide you through the process and accompany you to the hearing. Most people opt for the court-appointed lawyer's help. 
If you decide that you want a lawyer, you can contact your local courthouse and they will give you the information for the lawyer to contact. You can also contact The Jane Network at info@janenetworkfl.org for help finding free legal assistance.
You will tell the lawyer all of the reasons why you want to terminate your pregnancy. Everything that you tell your lawyer will be kept secret, the lawyer will not tell anyone what you tell them, unless you say it is okay. 
If the lawyer prepares your petition, you have the right to review the petition before it is filed. In some counties, you must be present at the courthouse when the lawyer files the petition.
Once your petition is filed, Florida law requires a judge to meet with you, and your lawyer if you have one, to hear about your request and make a final decision within three business days to either grant or deny the waiver.
If you decide that you do not want a lawyer, that is okay. You do not need a lawyer to file the petition or to meet with the judge at your hearing. If you follow the steps listed on the previous page, you can write your own petition.